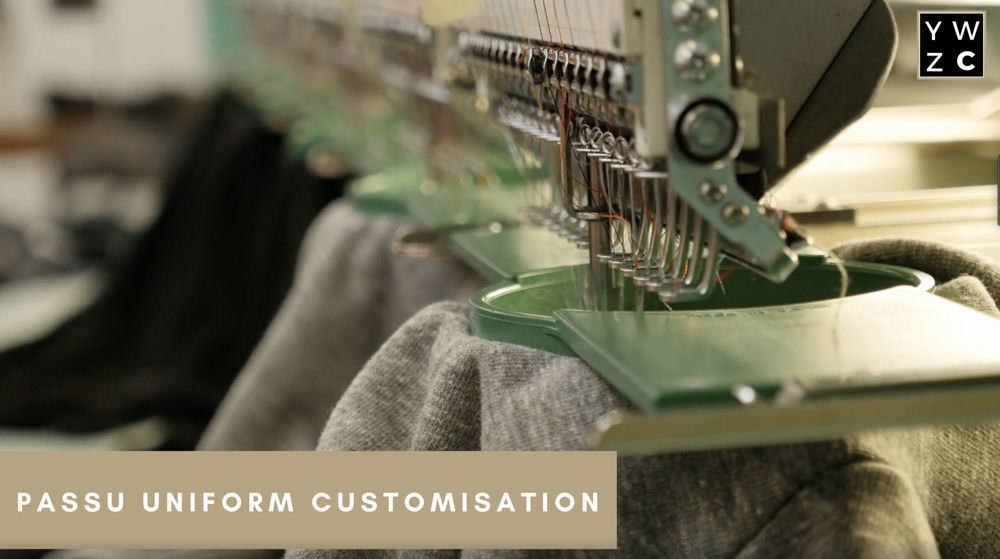 Passu's customization services allow clients to create products with style and substance. We believe that every company has its unique requirements hence, we give them the full liberty to have their workwear tailor-fit to their needs. Passu offers a wide assortment of products that can be custom printed and embroidered according to your specific needs, tastes, and budget.
We partner with the best industry partners to provide our customers with excellent and innovative customization services. Our website lets our customers upload their designs on mock-up products so they can visualize the customized products on a real-time basis. This service saves us and our customers valuable time in the design process.
Passu can help you improve better brand recall with our wide range of top-notch products. Customers can choose from a variety of goods that can be personalized so your clients can get something memorable, personal, and one-of-a-kind.
We offer you an opportunity to create cohesive and consistent branding by providing high-quality workwear uniforms and promotional products that best embodies your brand personality. We employ a skilled design team ready to connect with you to discuss unique designs that fit your branding. From company uniforms to unique corporate giveaways, you have the edge when choosing from our wide array of workwear choices.
Why PASSU?
Passu gives you the perfect solution to working with limited advertising and marketing budgets.
Passu can help convert customer loyalty and retention with minimum investment by gifting your clients with things they find value in.
We pride ourselves on the high-quality products that we offer.
Customization services according to your specific needs & tastes.
Creating cohesive and consistent branding is in our blood
Upload your designs on our website to receive quick quote and advice for free
Preview your designs in real-time on mock-up products
Skilled design team available 24/7
Every workplace and workspace are different, so we've developed our offering to provide a range of options to suit your branding, budget, or hard-wearing requirements.
Explore the offering below, or jump straight to our enquiry form and send us a quick message.
Customization options
Embroidery
Branding isn't just about your sophisticated marketing collaterals, high-tech website, and fancy physical stores. How your employees present themselves is just as important as having cohesive brand colors and typography. Your people are your best brand ambassadors; hence, it's integral to have them dressed in a way that speaks to your brand.
Work with our experienced team to create a branded uniform that reflects your business and brand to its greatest potential. We will work with you to plan out the vision for your uniform and provide you expert recommendations on the best way to achieve this.
Embroidery Basics:
Our team will provide artwork proofs & swatch samples for you to approve prior to roll-out.
Embroidery is ideal for Durable, long-lasting uniform branding
Minimum order quantity: Our sales team will mention in the quotation if any MOQ condition applies.
Price of Embroidery:  A one-time set-up fee of $65 excl GST is charged for logo digitisation, artwork set-up, and embroidery swatch sample. Embroidery unit cost depends on the size and detail of the logo, as well as how many units are required.
Set-up is free for future orders with the same logo & size.
Turnaround Time:  10-14 business days + shipping from artwork approval and payment received.
Printing
Fashion styles come and go, but workwear is forever. Passu offers traditional screen-printing and full colour digital transfer for Apparel.
We also offer new decoration technologies such as Ultra Colour, and Supa Colour to create the best uniforms for the current times.
Printing is a great option to replicate a graphic print on your uniform pieces. Ideal for detailed graphics that are difficult to replicate with embroidery, or if you are wanting to cover a large area of our garments.
Innovative techniques such as Laser Engraving, Pad Printing, and Screen Wrap Printing are used for customization on promotional items.
Printing Basics:
Printing is ideal for Large graphic prints, or for printing over pockets or seams. Not as durable as embroidery, but will withstand washing.
Not recommended for small quantity orders as otherwise, it will be too costly
Minimum order quantity: Our sales team will mention in the quotation if any MOQ condition applies.
Price of Print: This Will depend on the quantity, size, and number of colours in the artwork.
Turnaround Time: 10-14 business days + shipping from artwork approval and payment received.
Vector file format (.Ai or .EPS) of your artwork is required for all printing orders
Ready to Customise your uniform?
Speak to our design specialist team today about the best customisation option for you!
Please include as much detail with your enquiry as possible:
- What Garments are you interested in?
- What Quantity do you need?
- Where do you want your Logo Positioned?
- What size would you like your logo?