Products tagged with 'gift pack'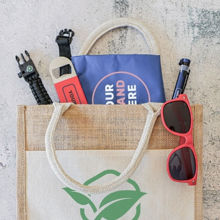 Get connected with nature and experience the great outdoors with this unique bundle of personalized items. The Outdoor Traveler Gift Pack contains all the essential items for any outing. Perfect for camping, hiking, or general traveling, the pack contains a 2.5 Litre Ourdoor Dry Bag with a Phone Window for easy access and protection against the elements. Complete the below quote form to get pricing.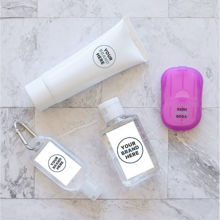 All that you could need to ensure your personal hygiene and safety throughout the day. The Personal Sanitisation corporate gift pack challenges the hazardous surfaces that we come across every day and prepares us for the worst. The Soapy contains thin layers of soap to be used anywhere there's running water and the three combinations of Hand Sanitisers always ensures your hands are clean even when water is unavailable. Stay safe and stay protected with this thoughtful personalized gift for the unsure world that we live in today. Complete the below quote form to get pricing.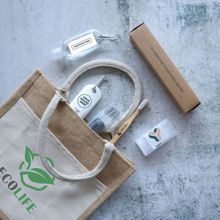 The absolute essentials for any time away from home. This set of promotional products makes for a fantastic personalized present for any valued customer or client to show off your branding. Containing only the necessities, the gift set comes with a small bottle of SPF 50 Dry-Touch Sunscreen, 30ml of Hand Sanitiser, and an Eye Glass Cleaner Set to polish those spectacles to look like new again. Complete the below quote form to get pricing.