Products tagged with 'wall signs'
Our Acrylic (Perspex) Panel Signs provide a high quality appearance for your internal signage. We can apply the print directly onto the front of white or black panel or onto the rear of clear panel to give the signage some protection and a glossier finish. (Note: Clear background is not available - these signs have a white or coloured background).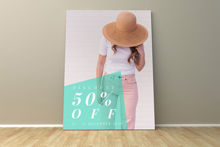 Foam PVC is perfect for internal signage. Many retail stores use these for big full colour images on their walls, or header cards for point of sale displays. This material has a smooth flat surface and the print results look amazing.