Products tagged with 'wall stickers'
Our Acrylic and ACP (Aluminium Composite Panel) 3D Letters will make your shop front or reception area look amazing!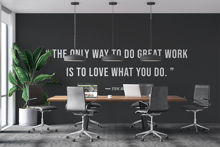 Our self-installation WALLTEX™ wall mural material is an adhesive polyester material which is printed in high resolution full digital colour. Not only can you save money by installing it yourself, you can also easily remove it without leaving adhesive residue!