From trade to transport, the WorkCraft™ range has been designed and manufactured to exceed the demands of modern industry. Every item is rugged and hardwearing, but not at the expense of fit, comfort and ease of movement. In short, WorkCraft™ is designed to work for work. Quality and durability are the hallmarks of WorkCraft ™. All garments are designed to comply to workwear standards.
We use only internationally recognised retroreflective tape, for general domestic washing and industrial laundering at extreme temperatures. For the ultimate in toughness, comfort and reliability, get the job done with WorkCraft ™.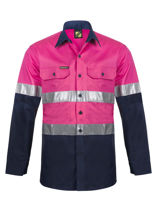 WorkCraft's Lightweight Two-Tone long sleeve vented cotton drill shirt is perfect for hot and humid weather. Vented underarms and back yoke keeps you cool while working in hot temperatures. This shirt complies with Australian workwear standards.